A somewhat historic outbuilding was torn down by Humboldt State University students earlier this semester, partly because the yurt-themed structure was deemed culturally insensitive.
Students with HSU's Campus Center for Appropriate Technology first discussed the possibility of removing the "yurt" — located on the CCAT property next to the Behavioral and Social Sciences Building — last year, as it could be considered a form of appropriating Mongolian and Inner Asian cultures.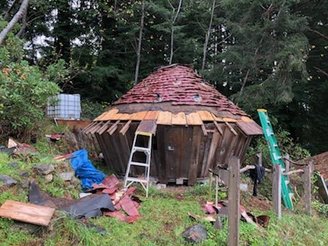 HSU's student-run bilingual newspaper El Leñador first reported the news earlier this month, focusing mainly on the cultural appropriation aspect of the story. However, CCAT Co-Director Abbey Ramirez told the Outpost that the building was removed for several reasons.
"There were multiple reasons for taking it down, the…